GEO/GEOSS/INSPIRE
EnviroGRIDS has developped its own capacity building strategy to stengthen people, institutions and infrastructures for GEO and INSPIRE activities in the Black Sea region.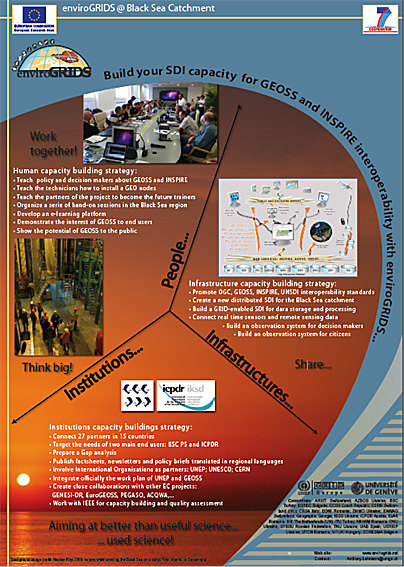 Institution
Institutions capacity buildings strategy:
Connect 30 partners in 15 countries
Target the needs of main end users: BSC PS, ICPDR and UNEP
Prepare a Gap analysis
Publish factsheets, newsletters and policy briefs translated in regional languages
Involve International Organisations as partners: UNEP; UNESCO; CERN
Integrate officially the work plan of UNEP and GEOSS
Create close collaborations with other EC projects: GENESI-DR, EuroGEOSS, PEGASO, ACQWA,...
Work with IEEE for capacity building and quality assessment
People
Human capacity building strategy:
Teach policy and decision makers about GEOSS and INSPIRE
Teach the technicians how to install a GEO nodes
Teach the partners of the project to become the future trainers
Organize a series of hand-on sessions in the Black Sea region
Develop an e-learning platform
Demonstrate the interest of GEOSS to end users
Show the potential of GEOSS to the public
Infrastructure
Infrastructure capacity building strategy:
Promote OGC, GEOSS, INSPIRE, UNSDI interoperability standards
Create a new distributed SDI for the Black Sea catchment
Build a GRID-enabled SDI for data storage and processing
Connect real time sensors and remote sensing data
Build an observation system for decision makers
Build an observation system for citizens
enviroGRIDS WORKSHOPS
Several workshops are being organized around the Black Sea to Bring GEOSS and INSPIRE into practice, and to present them to important decision and policy makers makers.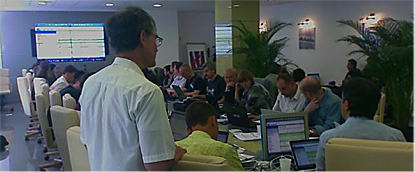 Bringing GEOSS Services into practice
Next workshop: 23 September 2011, Istanbul, Turkey
The Black Sea regional training workshop series "Bringing GEOSS Services into Practice", sponsored by the European Commission's 7th Framework Programme (FP7) project enviroGRIDS, aims at teaching how to install, configure and deploy a set of open source software to publish and share spatial data and metadata through the Global Earth Observation System of Systems (GEOSS) using OGC web services & ISO standards.
GEOSS has been created as an international voluntary effort that connects y geospatial and Earth Observation and information infrastructures, acting as a gateway between producers of environmental data and end users. The aim of GEOSS is to enhance the relevance of Earth observations and to offer public access to comprehensive, near‐ real time data, information and analyses of the environment.
The training workshop covers interoperability, hands‐ on experience with web portals, information access, open source software and spatial data sharing through web services and the GEOSS registries.
Consult the project agenda to see when the next workshops are planned in the Black Sea region.
GEOSS for Decision Makers in the Black Sea Area
The Black Sea Catchment is internationally known as one of ecologically unsustainable development and inadequate resource management, which has led to severe environmental, social and economic problems. The enviroGRIDS project addresses these issues by taking advantage of emerging information technologies that are revolutionizing the way we are able to observe our planet.
The Global Earth Observation System of Systems (GEOSS), being created by the Group on Earth Observations (GEO), provides a framework and the information for environmental management and decision making perspective. enviroGRIDS aims to enhance GEOSS by building the capacity of scientists to assemble such a capability in the Black Sea Catchment, the capacity of decision-makers to use it, and the capacity of the general public to understand the important environmental, social and economic issues at stake.
This workshop provides a high level overview of GEOSS and data interoperability as they relate to the needs of senior government officials and decision makers in the Black Sea area.
Consult the project agenda to see when the next workshops are planned in the Black Sea region.
INSPIRE
Concerning INSPIRE, we have written a white paper describing the INSPIRE Directive and giving a quick overview on tools available allowing exposing INSPIRE-compliant services (discovery, view, download, and transformation). It is available below: