List of acronyms
There are many abbreviations and acronyms used in the enviroGRIDS project. To facilitate the reading of this website and the various products, we provide below a list of used acronyms. This list is updated as new acronyms emerge.
API Application Programming Interface
BES Basic Execution Service
BS Black Sea
BSC-OS Black Sea Catchment – Observation System
BSC PS Black Sea Commission Permanent Secretariat
BOINC Open Infrastructure for Network Computing
CA Certification Authority
CE Computing Element BMP: BitMaP
CERN Centre Européen pour la Recherche Nucléaire
CGM Computer Graphics Metafile
CSW Catalog Service for the Web
CWE Collaborative Working Environment
DAIS-WG Data Access and Integration Working Group
DCE Distributed Computing Environment
DoW Document of Work
DR Digital Repository
EC European Commission
ECW ERMapper Compress Wavelets
EG enviroGRIDS project
EGEE Enabling Grids for E-scienceE
eGLE GiSHEO eLearning Environment
ELDAS Enterprise Level Data Access Service
EO Earth Observation
ESA European Space Agency
ESIP Environment Oriented Satellite Image Processing Platform DBMS Data Base Management System
ESRI Environmental Systems Research Institute – GIS software development and services company
FTS File Transfer Service
GDAL Geospatial Data Abstraction Library
GDS Grid Database Service
GDSS Grid Database Service Specification
GEO Group on Earth Observations
GEOSS Global Earth Observation System of Systems
GFAL Grid File Access Library
GFC Grid File Catalogue
GGF Grid Global Forum
GI Geographical Information GENESI-DR Ground European Network for Earth Science Interoperations – Digital Repositories
GIF Graphics Interchange Format
GIS Geographic Information System
GISEE GIS Technology and Market in South Eastern Europe study 
GiSHEO on Demand Grid Services for High Education and Training in Earth Observation
gLite WMS Workload Management System
GML Geographic Markup Language
G-OWS OGC Web Services Working Group
GPL General Public Licence
GPS Global Positiong System
GRID Global Resource Information Database
GSAF Grid Storage Access Framework
GSDI Global Spatial Data Infrastructure
GSF Grid Service Factory
GSI Grid Security Infrastructure
GSR Grid Service Registry
GT Globus Toolkit
GUID Globally Unique Identifier
HEP High Energy Physics
HTTP Hypertext Transfer Protocol
ICPDR International Commission for the Protection of the Danube River
INSPIRE Infrastructure for Spatial Information in the European Community
IR Implementing Rules
ISO International Organization for Standardization
IT Information Technology
JDL Job Description Language
JPEG Joint Photographic Experts Group
JSON JavaScript Object Notation
KML Keyhole Markup Language
KVP Key Value Pair
LFC LCG File Catalogue, LHC Computing Grid File Catalogue, Large Hadron Collider Computing
LFN Logical File Name
LHC Large Hadron Collider
LOB Large Object
MR Monitoring and Reporting
NSDI National Spatial Data Infrastructure
OAI Open Archive Initiative
OAIS Open Archival Information System
OASIS Organization for the Advancement of Structured Information Standards
OGC Open Geospatial Consortium
OGF Open Grid Forum
OGS Open Geospatial
OGSA Open Grid Service Architecture
OGSI Open Grid Service Infrastructure
OSF Open Software Foundation
OWS OGC Web Service
PDF Portable Document Format
PFN Physical File Name
PNG Portable Network Graphics
RB Resource Broker
RDBMS Relational DataBase Management System
RDF Resource Description Framework
REST Representational State Transfer
RM-ODP Reference Model for Open Distributed Processing (ISO/IEC 10746)
RPC Remote Procedure Call
RSS Really Simple Syndication
SDI Spatial Data Infrastructure
SDK Software Development Kit
SDSC San Diego Supercomputing Center
SE Storage Element
SEE-GRID-SCI South Eastern Europe-GRID eInfrastructure for regional eScience SHP: Shape File
SLA Service Level Agreement
SLD Styled Layer Descriptor
SOA Service Oriented Architecture
SOAP Simple Object Access Protocol
SOS Sensor Observation Service
SQL Structured Query Language
SRB Storage Resource Broker
SRM Storage Resource Manager
SURL Storage URL
SVG Scalable Vector Graphics
SWAT Soil and Water Assessment Tool
SWE Sensor Web Enablement
TC-211 Technical Committee within ISO for Geographic Information/ Geomatics standards
TIFF Tagged Image File Format
TURL Transport URL
UDDI Universal Description Discovery and Integration
UN United Nations
UNECA: United Nations Economic Commission for Africa
UNEP: United Nations Environment Programme
UNIGE University of Geneva
UNGIWG United Nations Geographical Information Working Group
URL Uniform Resource Locator
URM Uniform Resource Management
UUID Universally Unique Identifier
VO Virtual Organization
VOMS Virtual Organization Membership Service
VGI Volunteered Geographic Information
W3C World Wide Web consortium
WAS Web Service Authentication
WCS Web Coverage Service
WFS Web Feature Service
WIS Web Information System
WLCG Worldwide LHC Computing Grid
WM Workload Manager
WMS Web Map Service
WP Work Package
WPS Web Processing Service implementation specification produced by the OGC
WPVS Web Perspective and View Service
WS Web Service
WSDL Web Service Description Language
WSRF Web Services Resource Framework
WSS Web Security Service
WTS Web Terrain Service
XACML eXtensible Access Control Markup Language
XML eXtended Markup Language
Gender Action Plan
FP7 projects must have a Gender Action Plan (GAP), reflecting the European Commission's desire to promote gender equality as a mainstream issue.
The enviroGRIDS Gender Committee aims at ensuring gender equitability, defining specific women needs and proposing appropriate solutions (mobility, meetings) and actions to the Coordination and Management team and the Project Management Board. It is composed of three members elected amongst partners.
Gender Committee members (Apr. 2011 - Mar. 2013):
Ines Grigorescu (IGAR)
Tatyana Korzun (ONU)
Nikolay Iliev (BSREC)
Past Gender Committee members (Apr. 2009 - Mar. 2011):
Tamar Bakuradze (GeoGraphic)
Tatyana Bobra (TNU)
Pierluigi Cau (CRS4)
The reports on Gender issues in enviroGRIDS can be find below if you are logged in.
Links to resources for women in science can be found on the website of our partner project ACQWA.
The Black Sea Catchment
The core environmental problem of the Danube River Catchment can be described as "ecologically unsustainable development and inadequate water resources management" (PCU 1999). The problems are caused by different factors, such as: inadequate management of wastewater/solid waste, ecological unsustainable industrial activities, and inadequate land management and improper agricultural practices. They generate several direct consequences: pollution of surface/groundwater, eutrophication, and accelerated runoff /erosion. These consequences have, on the other hand, the following main effects: decline in quality of life, human health risks, degradation of biodiversity, economic decline, and reduced availability of water.
The Black Sea itself is also affected by severe environmental degradation. In 1995, it was rated with the highest concerns in five out of seven environmental categories, making it the worst of any of the European seas (Stanners and Boudreau 1995). Some signs of recovery have been observed in the last years, but eutrophication remains a severe problem.
The Black Sea Hydrological Catchment (see Figure below) represents a very interesting case study to test the capacity of integrating large data sets to assess vulnerability and sustainability issues related to freshwater resources as various scales. The project is therefore essentially concentrating on the terrestrial part of the Black Sea Hydrological Catchment, not to be confused with the marine part often considered when using the Black Sea Basin terminology.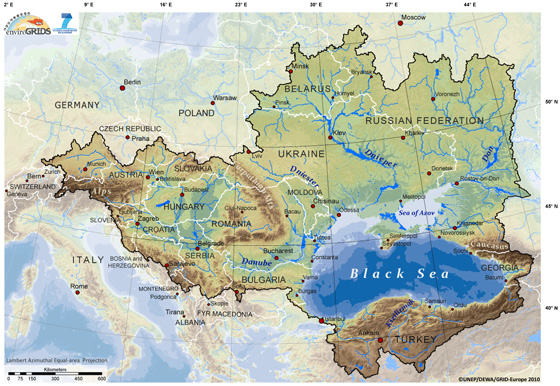 References
PCU (1999). Strategic Action Plan for the Danube River Basin 1995-2005 – Revision 1999. Danube Pollution Reduction Programme, Programme Co-ordination Unit
Stanners, D. and Bourdeau, P. (Eds.) (1995), "Europe's Environment: The Dobris Assessment," European Environment Agency Task Force, European Environment Agency, Copenhagen, Denmark
EnviroGRIDS building blocks
EnviroGRIDS @ Black Sea Catchment aims at building capacities in the Black Sea region to use new international standards to gather, store, distribute, analyze, visualize and disseminate crucial information on past, present and future states of this region, in order to assess its sustainability and vulnerability. To achieve its objectives, EnviroGRIDS will build an ultra-modern Grid enabled Spatial Data Infrastructure (GSDI) that will become one component in the Global Earth Observation System of Systems (GEOSS), compatible with the new EU directive on Infrastructure for Spatial Information in the European Union (INSPIRE). EnviroGRIDS is indeed officially registered as a specific task in the GEO work plan 2009-2011.
Gap analyis First, a gap analysis will allow identifying areas where most efforts are needed to reinforce existing observation systems in this region. Then, spatially explicit scenarios of key drivers of changes such as climate, demography and land cover will be created. These scenarios will feed into hydrological models calibrated and validated for the entire Black Sea Catchment. EnviroGRIDS will rely on the largest GRID computing infrastructure in the world (EGEE) that will transform elements of software underpinning scenarios and models onto a grid enabled system. The combined impacts of expected climatic, demographic, land cover and hydrological changes will be measured against GEO Societal Benefit Areas. Specific outcomes will be analyzed and made accessible to both the expert and non-expert public through a state-of-the-art web interface providing advance warning to target audiences about risks. The know-how and results of the project will be made available to countries within the Black Sea Catchment, and to the rest of the world, by providing a free and open source "do-it-yourself toolkit" downloadable from the Internet or provided on DVDs.
Resource Management System Based on the generated outputs, a Uniform Resource Management concept introduced by NaturNet-Redime project will be set up to support sharing of relevant knowledge and regional networking. Targeted workshops and course (both in-person and virtual) will be prepared on key domains. Through the combination of these activities, the consortium will greatly improve data access, use and utility in the Black Sea catchment. It will significantly build local, national and regional capacity on Observation Systems in order to better exchange knowledge and information and guide the region towards more sustainable development.
Global Earth Observation System of Systems With its ambitious objectives, EnviroGRIDS will be able to become a contributor to the Global Earth Observation System of Systems (GEO 2005) to help addressing societal benefits such as reducing human exposure to disasters, understanding key environmental factors, improving management of energy resources, understanding, assessing, predicting, mitigating, and adapting to climatic change, improving water resource management and weather information, managing terrestrial, coastal, and marine ecosystems, supporting sustainable agriculture and combating desertification, and conserving biodiversity.
Regional Commissions Regional organisations (such as the Black Sea International Commission, or International Commission for the Protection of the Danube River) and countries will be able to take advantage of EnviroGRIDS to analyse large environmental datasets in a harmonised way in order to support the conceptualization and implementation of environmental and relevant sustainable development policies.
Climate change Several of the environmental topics mentioned are clearly related and interdependent. As climatic change is becoming a worldwide concern that will affect many areas of human activities, the last report of the Intergovernmental Panel on Climate Change (IPCC 2007c, a, b) predicts important changes in the coming decades that will not only modify climate patterns in terms of temperature and rainfall, but will also drastically change freshwater resources qualitatively and quantitatively, leading to more floods or droughts in different regions, lower drinking water quality, increased risk of water-borne diseases, or irrigation problems. These changes may trigger socio-economic crises across the globe that need to be addressed well in advance of the events in order to reduce the associated risks.
Water resources Indeed, as documented by several assessments, humans are exerting significant impacts on the global water system (GWSP 2005) through activities such as the modification of the hydrological cycle, the accelerated melting of snow and ice in alpine zones, the removal of trees that lead to increased runoff, reduced transpiration, impacts on the water table and landscape salinity, the draining of wetlands, irrigation for agriculture, the alteration of flow through dams, the transfer of water between catchments, and pollution from industrial, agricultural and domestic sources.
Water Framework Directive The European Community is addressing the crucial problem of water quality and quantity by adopting the Water Framework Directive (CEC 2000) that promotes water management based on watersheds rather than administrative or political boundaries. The aim is to build river catchment management plans that define objectives based on ecological, hydrological and chemical values, as well as protected areas status. River catchment analysis will integrate the analysis of the economic value of water use for stakeholders in order to understand the cost effectiveness of alternative policy and technical measures.
UN Water Program The United Nations has followed a similar pathway and launched the UN Water Program aimed at bringing a greater focus on water-related issues at all levels and on the implementation of water-related programmes in order to achieve the water-related targets in Agenda 21, the Millennium Development Goals (MDGs) and the Johannesburg Plan of Implementation (JPOI).
Capacity building Given the predominant international concern on water issues related to climate change and the vulnerability of the Black Sea catchment, the EnviroGRIDS project will contribute to build capacity on Observation Systems in this specific region by looking at the impacts of these changes on selected GEO societal benefit areas. It will also provide direct scientific and technological support to the European Water Framework and INSPIRE directives. The methodology that will be developed though EnviroGRIDS will be fully transferable to other regions of the World in the future. The expected outcome is largely ensured by the participating organisations that are experts in different fields and that will bring together the best available data, modelling and communication techniques.
Early warning The resulting tools and data will allow for the analysis of river catchment pressures and their impacts on human and ecosystem well-being by local stakeholders and decision-makers. These efforts will also help to identify and provide early warning to vulnerable populations and identify the efforts needed to adapt and to limit negative social, economic and environmental impacts in the future. Through several validation projects on different societal benefit areas, our international consortium is expected to promote a wider use and acceptance of new data standards such as those contained in OGC, INSPIRE and GEOSS.
Objectives
General objectives: The scientific aim of the EnviroGRIDS project is to assemble an observation system of the Black Sea catchment that will address several GEO Societal Benefit Areas within a changing climate framework. This system will incorporate a shared information system that operates on the boundary of scientific/technical partners, stakeholders and the public. It will contain an early warning system able to inform in advance decision-makers and the public about risks to human health, biodiversity and ecosystems integrity, agriculture production or energy supply caused by climatic, demographic and land cover changes on a 50-year time horizon.
Technical objectives: The generic technical objectives of the EnviroGRIDS project are to:
run a gap analysis of existing regional observation systems to prepare recommendations for improvement of networks of data acquisition in each region/country,
build capacity on observation systems in the Black Sea catchment,
improve regional network to coordinate the efforts of partners active in observation systems
link, gather, store, manage and distribute key environmental data,
develop the access to real time data from sensors and satellites,
create spatially explicit scenarios of key changes in land cover, climate and demography,
distribute large calculations and datasets on large computer clusters,
streamline the production of indicators on sustainability and vulnerability of societal benefits,
provide a standard for integrating data, models and information and communication tools,
provide policy-makers and citizens with early warning and decision support tools at regional, national and local levels.
produce innovative tools to visualize and interpret data and results of integrated models,
alert citizens concerning exposure to environmental risks,
build capacities in the implementation of many new standards and frameworks (INSPIRE, GEOSS, OGC,..).
Beyond state-of-the-art: EnviroGRIDS is clearly going beyond the state of the art in the Black Sea region by adopting a catchment approach and by tackling several societal benefits areas together. By using the most powerful computer network of the world it is clearly showing the direction on how to analyse the increasing amount of global data made available throughout the planet. It is bringing crucial information in a relatively data-poor region on future scenarios of expected climate, demographic and land cover changes. Based on the outputs of these scenarios it is building geoprocessing services in key societal benefits areas that will be connected back to the GEOSS.
Main innovations:
Contribute to free publicly-funded data through interoperable databases and services
Streamline data process from data warehouses, to scenarios, hydrological models, impacts assessments and finally to disseminations tools.
Use grid enabled computer technology to store and analyse environment data
Gridify the code of hydrological model calibration and validation
Create regional scenarios of development in function of expected climate, land cover and demographic changes
Build efficient virtual and life trainings on EnviroGRIDS main topics
Make available useful open source software and data on DVD and on Internet
Raise public and decision-makers awareness through innovative collaborative systems
Provide an early warning system to inform the citizens and decision-makers on environmental vulnerability and risks associated to selected Societal Benefit Areas